Very Good Recipes of Fennel from Junglefrog Cooking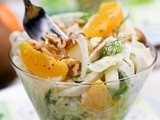 Orange fennel salad by Sonia, the healthy foodie
By Junglefrog Cooking
05/23/12 10:00
Sometimes you come across a blog that instantly captures your attention and Sonia's blog The Healthy Foodie is just one such blog. I love her recipes and her witty way of writing around those recipes and I think her photos are amazing too as you will see...
Add to my recipe book
Shaved fennel salad – Bookreview Supernatural Every Day
By Junglefrog Cooking
05/12/12 22:21
Even though the weather is certainly not salad-weather at the moment, I figured that maybe, if I eat enough salads, the sun will magically appear? Will that work you think? Sort of reversed psychology for the weather.. As I am typing this it is actually...
Add to my recipe book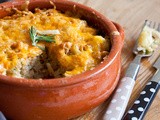 Cauliflower fennel gratin
By Junglefrog Cooking
03/07/12 12:22
When you talk to people about fennel, they are either in the pro or con camp. There doesn't seem to be some sort of middle way when it comes to fennel. Granted the flavor of fennel is quite distinct. I love it in all it's forms; seeds, fresh or dried (come...
Add to my recipe book