Very Good Recipes of Cream from Kitchen Geekery
Cream of peppers
By Kitchen Geekery
01/24/12 01:38
Ingredients Preparation time: 10 minutes Cooking time: 30 minutes Total time: 45 minutes 1 yellow bell pepper, diced 1 red bell pepper, diced 1 shallot, finely chopped 1 tbsp. oregano 100g/3½ oz parmigiano, grated 4 tbsp. extra virgin olive oil 400g/14...
Add to my recipe book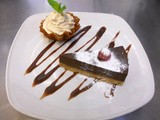 Chocolate torte with Espresso cream
By Kitchen Geekery
12/20/11 17:07
Ingredients Serves: 10 Preparation time: 15 minutes Refrigeration time: 3 hours Total time: 3 ¼ hours For the chocolate torte 450g/1lb chocolate (75% Cocoa) 250ml/½ pint double cream Cocoa powder (For dusting) For the Espresso cream 250ml/½ pint double...
Add to my recipe book