Very Good Recipes of Carrot from Kitchen Goddess (in training!)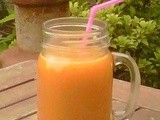 Everyday Vegetable Juice (Carrot, Celery and Orange Juice)
By Kitchen Goddess (in training!)
Subscribe
07/20/12 18:20
Seeing as this is a cookery blog, you may not be expecting to see a drink made out of raw vegetables, but hey, there is a first time for everything! One of the biggest things I miss already about Nottingham, is the juice bar I used to visit whenever I felt...
Add to my recipe book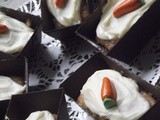 Miniature Carrot Cakes
By Kitchen Goddess (in training!)
Subscribe
06/04/12 09:00
Cake, cake and more cake...I have been swimming in cake batter the last couple of days! First was the bake-a-thon as I baked enough cakes to keep the birthday boy's office happy, next I made a Red Velvet birthday cake for Jon, and then last but not least,...
Add to my recipe book