Very Good Recipes of Crème fraîche from Kitchen Goddess (in training!)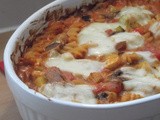 Gourmet Tuna Pasta Bake
By Kitchen Goddess (in training!)
05/15/12 14:00
Pasta bake is one of those dishes that everyone seems to associate with students...it might be the lazy pleasure of hearing that pasta sauce jar pop as your take off its lid, or the fact that if you're willing to wait a little longer...you don't even have...
Add to my recipe book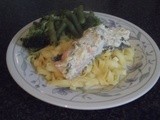 Salmon with Dill and Creme Fraiche
By Kitchen Goddess (in training!)
09/15/11 11:03
Salmon is most definitely one of my favourite fish! It's so versatile, lending itself to all sorts of cuisine - from asian, to being smoked, and of course with dill and creme fraiche! This is by far my Dad's favourite way of cooking salmon and if I don't...
Add to my recipe book