Very Good Recipes of Pancakes from Kitchen Goddess (in training!)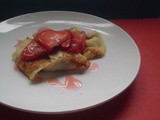 My Top 5 Pancake Fillings
By Kitchen Goddess (in training!)
02/19/12 13:50
With ShroveTuesday (aka Pancake Day) just days away I thought I'd post of my top 5 pancakefillings of all time! Some are sweet,some are savoury, and some are sour so there is guaranteed to be something foreveryone! From Mascarpone with Lemon Curd Swirl,...
Add to my recipe book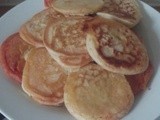 Basic Pancake Recipes
By Kitchen Goddess (in training!)
02/15/12 21:26
I don't want toalarm you but...PANCAKE DAY IS LESS THAN A WEEK AWAY! But don't fear, thisevening I'm sharing with you two fool proof recipes, one for the TraditionalEnglish pancake, and one for the American Style pancake. At the weekend, I will then share...
Add to my recipe book