Very Good Recipes of Bean from Kitchen in the Yard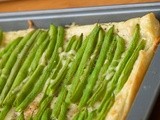 Savory Tart with Green Beans, Cheddar, and Parmesan
By Kitchen in the Yard
11/14/11 21:12
On to the savory tart ...(by the way, kudos to my friend Sarah for styling this first photo with the rolling pin - a gift from my cousin Kate - that I used to roll out the pastry!). Oh, Seasonal Vegetables I made a version of this with broccoli florets...
Add to my recipe book
Butternut Soup with White Beans and Cilantro
By Kitchen in the Yard
07/15/11 03:22
I had such a delicious soup a few weeks ago. It can be pretty socially fluid around here, with so many students in Boston who come and go at various times during the year. Some friends got together for dinner before a few were leaving town for the summer,...
Add to my recipe book