Very Good Recipes of Cream from Kitchen in the Yard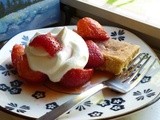 How to Make Fresh Whipped Cream (The Real Deal)
By Kitchen in the Yard
11/14/11 21:09
Okay - and I know this is going to sound weird - but I like whipping cream. I mean, I like the process of whipping liquid, heavy cream into the stuff you put on ice cream and cobbler and pie and brownie sundaes and chewy chocolate cake, and sometimes jello....
Add to my recipe book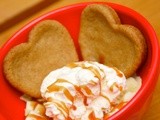 Bananas, Caramel, and Cream
By Kitchen in the Yard
11/14/11 21:07
Valentine's Day was more than a week ago already, but it's not too late to make heart-shaped desserts! (I realize that to some, heart-shaped anything is a bit too corny ... but I just couldn't help myself. Sorry). What you see in the red bowl has become...
Add to my recipe book