Very Good Recipes of Vanilla from Kitchen in the Yard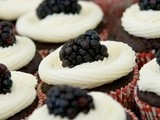 Chocolate/Blackberry Cupcakes with Vanilla Buttercream
By Kitchen in the Yard
07/10/11 07:59
I've been getting crazy about cupcakes recently. I know they've become something of a fad in the last few years, but to be honest, I haven't really understood how there are entire stores devoted to selling these compact sweets. What's the big deal? However,...
Add to my recipe book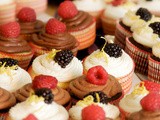 Lemon Buttercake/Vanilla Buttercream & Chocolate/Whipped Ganache
By Kitchen in the Yard
04/22/11 00:36
More on cupcakes! There are basically two types of cupcakes here: Chocolate cupcake with whipped chocolate ganache These are the same chocolate cupcakes I posted about earlier, using a recipe from Martha Stewart's site. The whipped chocolate ganache makes...
Add to my recipe book