Very Good Recipes of Orange from Kitchenkemistry
Orange Bath Salt
By Kitchenkemistry
01/30/13 23:45
Woah! January just jumped away. Still I haven't posted any recipe for the blog. The one I wish to post is not a food recipe. Though I have so many recipes pending, I feel like sharing this non-food recipe. Well, I know this is a food blog but this recipe...
Add to my recipe book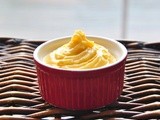 Orange Butter
By Kitchenkemistry
02/20/12 19:26
Sweet cream butter flavored with fresh OJ and sweetened with organic honey. Tangy orange juice infused and orange zest flavored butter pairs perfectly with toast, pancakes, blintz, waffles,crepes, quick breads, muffins, hot rolls, biscuits and even vegetable...
Add to my recipe book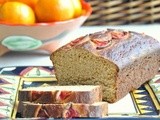 Bloody Orange Bread
By Kitchenkemistry
02/10/12 07:17
Lately, I've been fixated with baking breads using whole wheat flour. I get immense satisfaction when it turns out well. And, I exactly know what goes into that loaf booming with nutrients of the fresh ingredients from my pantry. The extra perk is, completely...
Add to my recipe book