Very Good Recipes of Cremoso from Semplicemente Light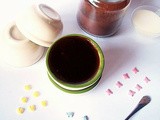 Budino cremoso al cioccolato
By Semplicemente Light
08/09/12 10:50
Buongiorno , come state ? Vi state abbronzando al mare oppure vi state godendo un po' di relax in montagna? Io per il momento mi sto godendo i 30 gradi della mure di casa mia, le vacanze devono ancora attendere! Passiamo alla ricetta di oggi , l'avevo pubblicata...
Add to my recipe book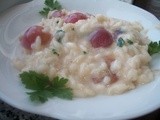 Risotto cremoso alla birra con uva nera
By Semplicemente Light
11/07/11 08:20
Questa è una ricettina che ho preso dalla rivista :"Voi…Noi…Bimby di settembre 2011" Ingredienti per 4 persone: 80 gr.di ricotta 30 gr.di parmigiano gratuggiato 230 gr.di birra scura 1 scalogno(io ho usato una cipolla di Tropea) 25 gr.di olio extravergine...
Add to my recipe book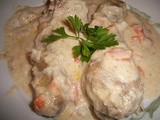 Pollo cremoso
By Semplicemente Light
10/27/11 16:20
Questa è una ricetta semplice e possiamo farla quando abbiamo ospiti a cena, è il pollo arrichito da una crema molto saporita. Ingredienti per 8 persone: 1 kg.di cosce di pollo 250 gr. di panna da cucina 2 carote medie 1 cipolla rossa di Tropea(uso questa...
Add to my recipe book