Very Good Recipes of Spaghetti from Semplicemente Light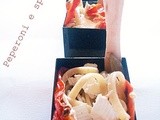 Peperoni e spaghetti in finger food
By Semplicemente Light
08/30/12 08:43
Oggi vi propongo la terza ricetta che ho preparato per partecipare al contest di Atmosfera Italiana dedicato al finger food Ho preparato degli spaghetti integrali deliziosi di ottima qualità, li ho semplicemente cotti e conditi con una noce di burro per...
Add to my recipe book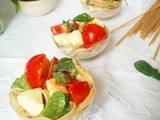 Nidi di spaghetti alla caprese
By Semplicemente Light
07/26/12 20:21
State boccheggiando dal caldo ? E pensare che sembrava che si era attenuato un poco, neanche il tempo di dirlo che qui in Piemonte si fa fatica a stare fuori dal troppo caldo , comunque questione di qualche settimana e ci lamenteremo per la pioggia o altro...
Add to my recipe book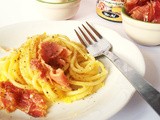 Spaghetti uova e speck
By Semplicemente Light
05/24/12 06:56
Buongiorno a tutti , oggi piccolo sondaggio: preferite la pasta corta o quella lunga tipo spaghetti,linguine ecc...? In casa mia la pasta corta la fa da padrona ,è quella cucinata di più in assoluto per la gioia di mio marito, ma ogni tanto per far contenta...
Add to my recipe book