Very Good Recipes of Tagliatelles from Semplicemente Light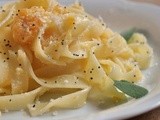 Tagliatelle cremose alla zucca
By Semplicemente Light
12/10/12 12:00
Come promesso la settimana scorsa oggi un'altra ricetta con la zucca ,ormai ci ho preso gusto ….e pensare che fino a qualche tempo fa odiavo letteralmente il gusto dolciastro della zucca ma….come si sa se si impara a cucinare bene può diventare un ottimo...
Add to my recipe book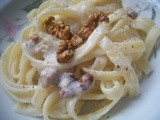 Tagliatelle alla crema di formaggi e noci
By Semplicemente Light
11/09/11 21:43
Cosa cucino oggi a pranzo? Questa è una domanda che come casalinghe ci facciamo ogni giorno, per oggi vi suggerisco una ricetta semplice ma molto ricca di sapore e di qualche caloria in più, ma ogni tanto ci vuole vero? Specie in queste giornate un poco...
Add to my recipe book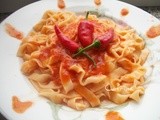 Le tagliatelle leggere
By Semplicemente Light
10/29/11 07:05
Le tagliatelle di Nonna Pina.....la conoscete questa canzoncina? Sicuro!!! Queste invece sono le tagliatelle di Catrina ,scherzo! Quando ho visto la ricetta su Cookaround mi sono subito piaciute ,specie per il fatto che non contengono uova, quindi le possiamo...
Add to my recipe book