Very Good Recipes of Red from Les Recettes Du Panier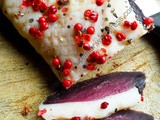 Magret séché aux baies roses / Dried Duck Breast with Red Peppercorn
By Les Recettes Du Panier
12/22/13 06:00
Chose rare sur ce blog, voici une recette pure viande! Il s'agit d'une recette très facile à réaliser, idéale pour les jours de fêtes à condition de la faire à temps car le magret doit sécher trois semaines avant d'être consommé. Si vous aimez le magret,...
Add to my recipe book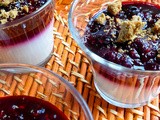 Panna cotta aux fruits rouges / Red Berry Panna Cotta
By Les Recettes Du Panier
03/25/12 10:00
Et voilà une nouvelle ronde Interblog qui se termine! C'est la 26ième édition et ma 6ième participation (déjà!). Cette fois-ci, le sort m'a emmené chez Marion(nette) de Novice en cuisine que je fréquentais déjà! Et Sophie de Mignardises and co doit venir...
Add to my recipe book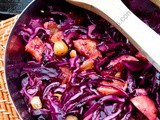 Salade de chou rouge à l'orange sanguine / Red Cabbage and Blood Orange Salad
By Les Recettes Du Panier
03/20/12 06:00
Dans le numéro 45 du magazine "Régal" (Février-Mars 2012) figurait une recette, légèrement détournée ici, qui s'appliquait à merveille au demi chou rouge du panier. Je viens de me régaler d'un reste en guise de dîner. C'est une excellente association sucrée/salée...
Add to my recipe book