Very Good Recipes of Noodle from Living the Gourmet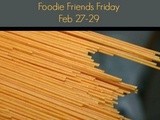 Foodie Friends Friday: Noodle Party
By Living the Gourmet
02/28/14 03:24
Welcome to Foodie Friends Friday!! I cannot believe how quickly this week has gone by. Phew! Well it's time to recap, linkup and party. This week it's all about the Noodle so be sure to link up your favorite pasta/noodle recipe. This linkup is open to everyone,...
Add to my recipe book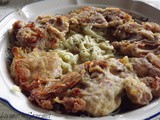 ~Baked Boneless Chicken Thighs with Noodles ~
By Living the Gourmet
05/04/12 02:14
Ingredients: Boneless chicken thighs – setting the bones aside Flour Vegetable oil Preheat the Oven 350 degrees: Place the flour in a shallow dish and dip each chicken thigh in the flour. Place in a baking pan and drizzle the vegetable oil over the thighs....
Add to my recipe book
Asian Style Marinated Pork Pieces and Noodles
By Living the Gourmet
03/16/12 17:09
Ingredients: 2 lbs pork - sliced thin or cubed Marinade: 4 cloves garlic, crushed and chopped Zest of ½ orange 2 tablespoons soy sauce 2 tablespoons teriyaki sauce 1 tablespoon Hoisin sauce 1 teaspoon ground fresh chili paste Juice of ½ lime 1 teaspoon...
Add to my recipe book