Very Good Recipes of Pork from Make lemonade and more!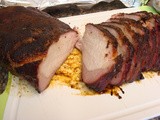 Smoked Pork Loin
By Make lemonade and more!
09/10/12 04:52
I LOVE new cookbooks, I just want to make everything!!! I got a new Best Grilling Recipes from Cook's Country and have spent lots of evenings drooling over the pictures. Does anyone else do that? I would love to try out a recipe everyday! Anyway, this recipe...
Add to my recipe book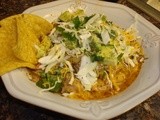 Posole Rojo (Red Pork and Hominy Soup)
By Make lemonade and more!
01/27/12 06:09
This is a delicious soup or stew (or should we say stoup like Rachel Ray) that I got out of my Food Network magazine. I had been looking for a good Posole recipe for a while. Jim's mom used to make him Menudo alot when he was growing up. She made it for...
Add to my recipe book