Very Good Recipes of Soup from Mediterranean Inspired Food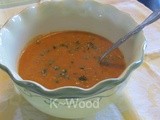 Summer Tomato Spicy Soup
By Mediterranean Inspired Food
09/04/13 21:20
Ingredients: 5 cups cherry tomatoes cut in half 2 yellow or orange peppers, seeded and roughly chopped 2 tablespoons olive oil 1 tablespoon powdered coriander seeds 1 tablespoon powdered cummin seeds a pinch of salt a pinch of freshly ground pepper 1 cup...
Add to my recipe book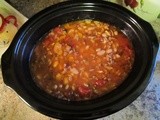 15 Bean Soup (Crock Pot recipe)
By Mediterranean Inspired Food
02/01/12 17:32
1 bag of dried 15 bean mix. Soaked overnight and rinsed 1 pound of ground meat browned( I used turkey) 1 med. yellow onion diced 2 - cans Fire roasted tomatoes ( do not drain) 1 -32 oz. container chicken broth ½ cup diced bell pepper 1/2 tsp. sage ¼ tsp....
Add to my recipe book
Winter Squash Soup
By Mediterranean Inspired Food
08/30/11 17:15
This soup is flavored with mild spices of India Ingredients: 1 cup Red lentils soaked and drained 1 pd. Butternut squash peeled and cubed 1 Roma tomato diced ½ cup shredded Coconut ½ teaspoon Curry ½ teaspoon Cumin ¼ cup minced Onion ¼ cup diced Red pepper...
Add to my recipe book