Very Good Recipes of Basil from Melissa Likes To Eat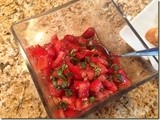 142.6…Tomato and Basil Bruschetta
By Melissa Likes To Eat
09/04/13 00:15
As promised, here is the recipe for the Tomato and Basil Bruschetta I made for Friday's Gourmet Club dinner. I made it to go with the Goat Cheese Torta with Garden Pesto. It was the perfect combination. Tomato and Basil Bruschetta Original Recipe from my...
Add to my recipe book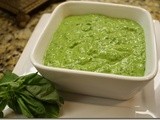 Spinach Basil Pesto – Holiday Recipe Club
By Melissa Likes To Eat
04/05/12 10:00
As I've mentioned before, I am a lover of all things sauces. Condiments, dips, glazes….basically anything you can pourable. I'm all about it. Most of the time, these sauces are so loaded with fat and calories that they can be a diet disaster. I've found...
Add to my recipe book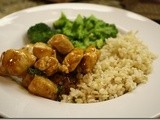 136.8…Spicy Basil Chicken
By Melissa Likes To Eat
03/31/12 01:46
Last night's dinner was courtesy of April's Cooking Light issue again. When I saw the recipe for Spicy Basil Chicken, I thought my husband would really enjoy it. He loves Asian style chicken dishes. Spicy Basil Chicken (Serves 4) Adapted from Cooking Light,...
Add to my recipe book