Very Good Recipes of Crockpot from Michele's Woman Cave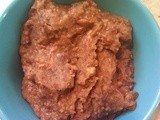 Crockpot Refried Beans
By Michele's Woman Cave
05/05/12 23:40
Happy Cinco de Mayo! Today to celebrate the holiday I attempted another new recipe. I think I'm going to use some for a turkey bean burrito in a little while. Crockpot refried beans 2 cups pinto beans 1/2 cup onion, peeled and chopped 2 dried chile chipotle...
Add to my recipe book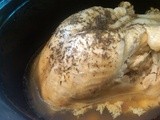 Crockpot Turkey Breast
By Michele's Woman Cave
02/04/12 21:14
Getting ready for the big game tomorrow, I cooked a turkey breast today. It's so moist to make it in a crockpot. Crockpot Turkey Breast 1 turkey breast (4-6 pounds) 1 cup chicken broth 1 tbsp lemon juice 4 tbsp butter kosher salt and freshly ground pepper...
Add to my recipe book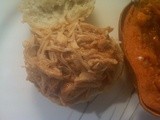 Dr Pepper bbq Crockpot Chicken
By Michele's Woman Cave
01/16/12 00:04
You have to love dinners that practically make themselves. Dr Pepper BBQ Crockpot Chicken 3 large Chicken breasts -- boned and skinned 1 cup chicken broth salt and freshly ground black pepper poultry seasoning 1 cup Dr Pepper 1/4 cup BBQ sauce Put chicken...
Add to my recipe book