Very Good Recipes of Oatmeal from Mostly Food and Crafts
Oatmeal Cookie Pancakes
By Mostly Food and Crafts
Subscribe
08/08/11 13:53
Our Saturday morning ritual pretty much goes like this... Kids wake up and come into our room, they jump on Hubby and ask if he's ready to make the pancakes. I always cringe and say can't we please have eggs? But Saturdays are for pancake making so Hubby...
Add to my recipe book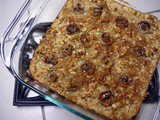 Baked Banana Oatmeal
By Mostly Food and Crafts
Subscribe
07/01/11 14:18
Its Friday! That means it's time for another Your Recipe- My Kitchen Post. This is actually a recipe I had been making to make for a while, I made this Baked Banana Oatmeal last Thursday and then I made it again on Sunday - it was that good! This recipe...
Add to my recipe book