Very Good Recipes of Quinoa from Mostly Food and Crafts
Chicken with a Quinoa & Garbanzo Bean Salad
By Mostly Food and Crafts
07/18/11 15:50
I made this dish the other night, it was inspired by a similar recipe by Melissa d'Arabian from The Food Network. But I changed it a bit and I'm not quite sure what to call this chicken. Maybe just "Very Yummy Marinated Chicken that my Kids Really Liked"...
Add to my recipe book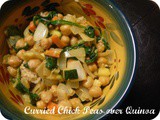 Curried Chickpeas Over Quinoa
By Mostly Food and Crafts
04/25/11 14:00
Sweet Girl had her dance pictures at 7:15 the other night - they took forever!! By the time we got out it was so late I was hoping Hubby was home getting dinner together so I didn't have to think about it. No such luck - he decided to work (very) late that...
Add to my recipe book