Very Good Recipes of Breakfast from My Kitchen Flavors
Healthy Breakfast Salad
By My Kitchen Flavors
02/12/12 06:56
U can try easy good amazing recipes (cooking/non-cooking) to appetize or impress ur Luvd ones this weekend. Tried it few days back and this Healthy Mixed Salad which has become an instant hit in our family (with guests 2) this weekend. Kids will Luv this...
Add to my recipe book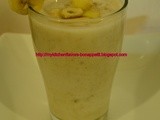 Oatmeal Breakfast Smoothie
By My Kitchen Flavors
02/10/12 02:17
This recipe states one of the easiest and healthiest smoothies done with Oatmeal.This recipe is given as Today's Healthy Recipe. U can combinely blend Oatmeal with boiled milk and ur choice of fruits without cooking the oats. But the Smoothie tastes better...
Add to my recipe book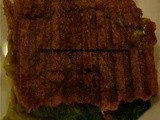 Healthy Breakfast Grilled Sandwich
By My Kitchen Flavors
11/16/11 07:39
Feeding kids with tasty yet healthy breakfast is a challenge.Esp,When it comes to Breakfast,kids can be very fussy.They luv varieties.Try this seemingly inviting and simply innovative Grilled Healthy Sandwich. This one is very much filling as well as light...
Add to my recipe book