Very Good Recipes of Tuna from My Kitchen Flavors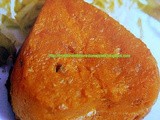 Tuna Fish Cake
By My Kitchen Flavors
10/08/11 02:11
Tasted this Tuna Fish Cakes in a restaurant two years back.And my attempt at home was successful and it tasted awesome.Can get 7-8 fish cakes in the given measurements.Very tasty fish cake that u can try easily at home.U can bake it or get it done Tawa-fried.U...
Add to my recipe book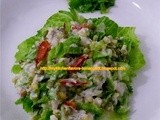 MoongDal Tuna Salad
By My Kitchen Flavors
09/28/11 05:45
This salad recipe serves as a salad and a sandwich filler.Very easy to do as well as a tasty one to try . Enjoy Ur meal. BonAppetit!. Moong Dhal Tuna Salad -Sprouted moong dhaland tuna with herbs and spices Ingredients: 1/2 cup sprouted moong dhal (cleaned...
Add to my recipe book