Very Good Recipes of Sauce from my little favourites DIY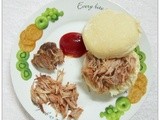 Pulled- Pork Sandwich with Egg Benedict and Hollandaise sauce (Martha Stewart) ..丰富的早餐呢!!\
By my little favourites DIY
12/31/12 17:00
When i first saw Zoe cooked this i am so interested to give it a go. I know my kids will love it. I know this is quite a big portion for my family so i cooked 1/3 of the recipe and it still took us 2 days to finish it. We all love it and i will definitely...
Add to my recipe book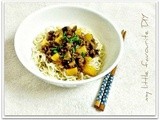 香菇卤肉饭vs自制面条....Braised mushroom and mince meat in soy sauce with rice vs homemade noodles
By my little favourites DIY
12/17/11 03:12
Saw this special dish from Sally 's blog. She is a awesome person with lots of yummy food in her blog. This dish I saw it is very simple but really delicious. You can get the ingredients any time of the day in the house...I don't know you ...but for me...
Add to my recipe book