Very Good Recipes of Soup from My Little Italian Kitchen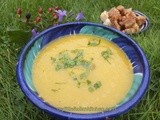 Simple vegetable soup with croutons
By My Little Italian Kitchen
09/04/12 21:10
I have been feeling quite lazy in the last couple of days. I am sure it will be the same for everyone coming back from a holiday. Going back to normal it is like a shock! Blogging is what's cheers me up. I have loads of washing to do and the house to clean,...
Add to my recipe book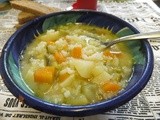 Rice and vegetables Italian soup and book review
By My Little Italian Kitchen
07/18/12 19:42
Recently I have been sent two e-books to review. I was interested because the author Gioietta Vitale comes from northern Italy (like myself), to be precise from Milan, and her recipes and very similar to the ones I grew up with. Also I am new to e-books...
Add to my recipe book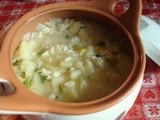 Italian leek and potato soup with rice
By My Little Italian Kitchen
01/09/12 21:50
HAPPY NEW YEAR! After the festive season we all need a bit of a detox or at least we need to go back to a more normal and healthy regime. So today for my family I made this simple and tasty soup which is relatively quick to prepare. Ingredients: 1 onion...
Add to my recipe book