Very Good Recipes of Chicken from Neil Cooks Grigson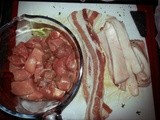 #369 Game, Rabbit or Chicken Pie
By Neil Cooks Grigson
02/09/13 22:01
Here's a raised pie that is versatile – you can use chicken, rabbit or any other game as its base. I went with game as I love cooking with it and love eating it even more. I'm giving you it just in time for the end of Britain's game season. I would advise...
Add to my recipe book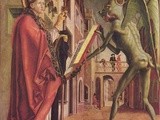 #298 Pulled and Devilled Turkey, Chicken or Pheasant
By Neil Cooks Grigson
06/11/11 05:53
"One of the most delicious dishes of eighteenth-century cooking, indeed one of the best of all English dishes", says Griggers. That's quite a statement. The idea behind this receipt is that it uses up that left-over Christmas or Thanksgiving turkey "with...
Add to my recipe book