Very Good Recipes of Tomato Sauce from Knife Fork and Chew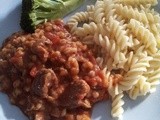 Slow cooked beef with barley and tomato sauce
By Knife Fork and Chew
12/07/12 00:36
I came up with this recipe when I discovered some chuck steak in the freezer and barley in the pantry which was nearing it's best by date. This is a tasty, warm and nourishing meal and lovely served with pasta and vegetables. It serves 5, but if you wanted...
Add to my recipe book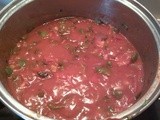 Home-made Tomato Sauce
By Knife Fork and Chew
01/25/12 04:45
Hubby went shopping at a farmer's market for me and came home with a kilo of tomatoes. Because they were very ripe, I decided to make a tomato sauce for tonight's pasta. It's easy, tasty, low-fat and very healthy. Ingredients: 1 kilo of very red ripe tomatoes,...
Add to my recipe book