Very Good Recipes of Aka from No-Frills Recipes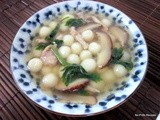 Savoury Tong Yuen for Dongzhi aka Winter Solstice Festival
By No-Frills Recipes
12/18/12 06:11
I fast forwarded Dongzhi aka Winter Solstice and celebrated it early. Made these Savoury Tong Yuen or glutinous rice balls and had this for lunch with my family. Normally, I would make sweet tong yuen but this year I thought I'd try something different...
Add to my recipe book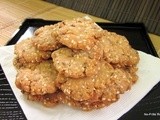 Kai Chai Paeng aka Little chicken biscuit
By No-Frills Recipes
03/21/12 17:14
K ai Chai Paeng or 'Little chicken biscuit' was one of my father's favourite item to take away whenever we stopped by Bidor, a small town south of Ipoh on the way to Kuala Lumpur, long ago before the North-South Highway came into existence. Those days,...
Add to my recipe book