Very Good Recipes of Roll from No-Frills Recipes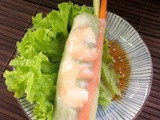 Vietnamese Rolls
By No-Frills Recipes
07/30/12 08:31
I was doing a stock take of my pantry when a round packet of 'something' caught my eye. Goodness, I had completely forgotten all about the packet of Vietnamese rice paper that I brought back from my previous trip to Perth in December. A quick check on the...
Add to my recipe book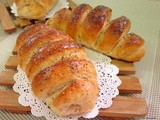 Bak Kwa rolls
By No-Frills Recipes
02/16/12 17:51
F rom the kitchen of 'No-Frills Recipes' here comes piping hot and sweet smelling 'Bak Kwa rolls'. I made these rolls with Bak Kwa or sweet dried meat leftover from Chinese New Year. They were soft and delectable with the Bak Kwa and I saved up two rolls...
Add to my recipe book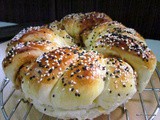 Meat Floss Rolls ~ Take 2
By No-Frills Recipes
06/20/11 01:12
This is another version of Meat floss Rolls that I made recently, slightly different from the previous meat floss roll that I've posted which was a loaf. This time I used chicken meat floss and these rolls can be easily torn apart when you want to 'attack'...
Add to my recipe book