Very Good Recipes of Salades from Notes of a Foodie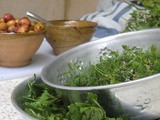 Morocco المغرب part one (Spices & Salade Marocaine)
By Notes of a Foodie
Subscribe
06/23/11 17:37
Before I start writing 'part one', I want to make clear why I decided to start writing in parts in the first place. Me and my mother had the privilege to spend a few days in Marrakesh a few weeks ago. It was incredible, beyond my expectations. And the food,...
Add to my recipe book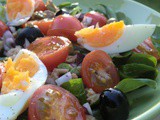 Salade Niçoise, the way i like it
By Notes of a Foodie
Subscribe
04/11/11 19:13
A Niçoise salad is one of those summer dishes reminding me of holidays in the Provence and dinners in the garden of the house where I grew up. My mom used to make it all the time (probably because I kept asking for it). This is also one of the first dishes...
Add to my recipe book