Very Good Recipes of Zucchini from Notes of a Foodie
Summer Feeling (Puff Pastry Tart with Roasted Tomatoes and Zucchini)
By Notes of a Foodie
04/26/11 08:00
Something really odd is happening here in the Netherlands.. For the last couple of days the weather has been insane, in a very good way! Twenty-five degrees Celsius, which must be at least five degrees above average.. Everyone, including me, wears their...
Add to my recipe book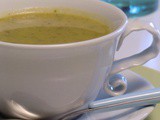 Pantry Days (Zucchini, Leek and Sage Soup)
By Notes of a Foodie
04/18/11 22:13
This Saturday I'm moving out of my current house. For the last two weeks I've been trying to eat all the food in my freezer: Leftover soup, muffins, stew, flatbread, granola bars, curry, and more soup.. Though I've been really busy with things like collecting...
Add to my recipe book