Very Good Recipes of Blueberry from Nutrition in a peanut shell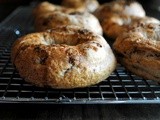 Blueberry brown-sugar bagels
By Nutrition in a peanut shell
06/03/12 20:14
Remember how I said I was going to do scones this weekend? Yeah, that sooo didn't happen. I tried. I really did. I entrusted my BFF (he just doesn't know it yet) Alton Brown to provide me with the perfect scones. And what did I get? A big, sticky mess....
Add to my recipe book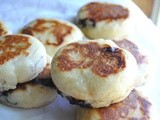 Blueberry English Muffins
By Nutrition in a peanut shell
05/19/12 21:25
Hey, I'm sorry. I didn't mean to offend anyone with what I wrote yesterday. I truly appreciate everything you guys have ever said to me- and it was kind of over the line for me to call out the whole traffic thing. Sometimes I really don't think before I...
Add to my recipe book