Very Good Recipes of Chickpea from Ozlem's Turkish Table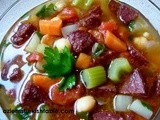 Vegetable & Chickpea Soup with a Delicious Twist- Try sautéed Turkish spicy sausage, Sucuk on top! & Istanbul Calling in February
By Ozlem's Turkish Table
01/30/13 17:32
I love a good, hearty soup in winter. With some crusty bread by the side, it can be a meal on its own for me. Soups, -"Corba" in Turkish-, form a very important part of Turkish diet; almost every dinner, especially in cooler months, start with soup in Turkish...
Add to my recipe book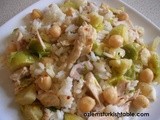 Chickpea Pilaf with Chicken and Vegetables; Turn Your Leftovers into a Complete, Delicious Meal
By Ozlem's Turkish Table
01/10/13 15:38
Nohutlu pilav, Chickpea Pilaf is a popular street food in Turkey. Street stalls, selling this delicious and great value pilaf, appear at almost every corner in Istanbul and elsewhere; all you need to do is to get a tub of this delicious grub with a few...
Add to my recipe book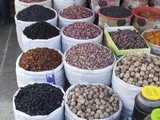 A Culinary Delight; Gaziantep Cuisine – Bulgur Meatballs with Squash and Chickpeas, in Yoghurt & Mint Sauce – Yogurtlu Bulgurlu Kofte, Gaziantep Usulu
By Ozlem's Turkish Table
11/07/12 22:49
Have you ever been to Gaziantep? Did you ever have a chance to sample its delicious cuisine reflecting a rich culinary heritage? The last time I have been to Gaziantep was a few years ago; the aromas, spices, the red pepper paste, dried peppers and aubergines...
Add to my recipe book