Very Good Recipes of Meatball from Ozlem's Turkish Table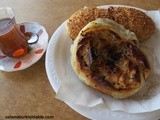 Pomegranate juice, the frothiest of Ayran (Turkish yoghurt drink), Meatballs with potatoes and peppers and More – Fascinating Pergamum and Its Culinary Delights
By Ozlem's Turkish Table
05/01/13 10:31
"Time to stop for cay – Turkish tea- and refreshments!", announced our tour guide on our way to the ancient Pergamum or Pergamon, near by the city of Bergama in Turkey. As much as I looked forward to going back to Pergamum, this announcement was music to...
Add to my recipe book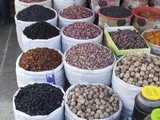 A Culinary Delight; Gaziantep Cuisine – Bulgur Meatballs with Squash and Chickpeas, in Yoghurt & Mint Sauce – Yogurtlu Bulgurlu Kofte, Gaziantep Usulu
By Ozlem's Turkish Table
11/07/12 22:49
Have you ever been to Gaziantep? Did you ever have a chance to sample its delicious cuisine reflecting a rich culinary heritage? The last time I have been to Gaziantep was a few years ago; the aromas, spices, the red pepper paste, dried peppers and aubergines...
Add to my recipe book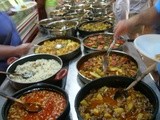 Casserole of Turkish Meatballs with Aubergine, Potatoes, Tomatoes and Peppers – Sebzeli Firin Kofte
By Ozlem's Turkish Table
07/14/12 13:36
There is a concept of "lokanta" restaurants at home, where slowly cooked and ready to eat casseroles of meatballs and vegetables, vegetables cooked in olive oil, stuffed vegetables and many more are displayed on serving trays. The idea is you get a chance...
Add to my recipe book