Very Good Recipes of Okra from Peri's Spice Ladle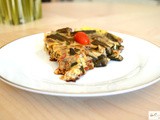 Parsi Okra Frittata (Bhinda per Eedu)
By Peri's Spice Ladle
Subscribe
01/09/15 15:00
The Parsi folks' love for eggs – cooked and raw, is well-known. You'll find interesting Parsi 'egg tales' in my posts for Potato and Pea Frittata…The Parsi Way and Tangy Spiced Tomato Egg Tart…Delicious Twist on a Parsi Special. This recipe for stove-top...
Add to my recipe book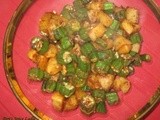 The Spotlight is on Okra…With This Okra-Potato Stir Fry
By Peri's Spice Ladle
Subscribe
03/02/12 15:14
I feel okra gets the short end of the stick in the vegetable world. I wonder why? It is wholesome and delicious and cooks easily…not to mention the long list of health benefits (high in vitamins, iron, calcium and fiber). Okra or Lady fingers or Gumbo (in...
Add to my recipe book