Very Good Recipes of Red from Pistachio and Rose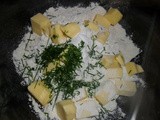 Beef and Red Wine Stew with Cheese and Chive Dumplings
By Pistachio and Rose
Subscribe
10/09/11 20:14
Ive had a sad couple of days as I had to attend the funeral of a beautiful friend who was taken far to soon and far to young but it was a very fitting service with the soundtrack to 'Back To The Future' playing as we entered the church which could not have...
Add to my recipe book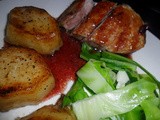 Roasted Duck Breast with Fondant Potaoes, Sauteed Greens and a Cranberry and Red wine Reduction
By Pistachio and Rose
Subscribe
09/09/11 20:00
Yea that's right I roasted some duck breast, made fondant potatoes and a reduction and it wasn't even a special occasion, it was just a Wednesday. I got two beautiful organic free range duck breast's and seared them skin side down to render the fat to cook...
Add to my recipe book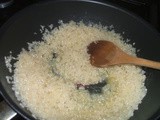 Red Wine Riotto and Harissa Roast Chicken
By Pistachio and Rose
Subscribe
03/10/11 13:44
I had half a bottle of red wine and some Japenease rice and apparntly you can use Japenease rice as a replacement for aborio risotto rice and it worked like a dream. I made risotto in the same way you always do with the butter and the wine and the stock,...
Add to my recipe book