Very Good Recipes of Southern from Plate Fodder, eat something good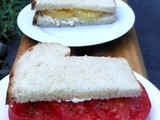 The Sandwich Diaries - The Southern Vegetable Sandwich
By Plate Fodder, eat something good
07/19/12 06:35
It's true, if you can slap it between two slices of white bread... Southerners will call it a sandwich. I've eaten my fill of table scrap sammies, chicken leg (with the conspicuous protruding bone) sandwiches. Meatloaf, banana, potato chip, all play in...
Add to my recipe book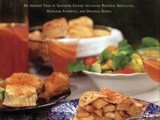 Cookbook Sundays - Southern Homemade Loaf Bread
By Plate Fodder, eat something good
03/25/12 07:10
I have a little secret. I rarely pay full price for a cookbook. Oh, I ohh and ahh over the newest books at the B&N and thumb through them at the market, but buy a new one? I'm way too frugal (nice word for friggin' cheap) for that. No, I get my many, many,...
Add to my recipe book