Very Good Recipes of Kulcha from Preeti's Kitchen Life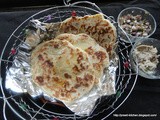 Stuffed Kulchas/ Indian Bread- Punjabi Special
By Preeti's Kitchen Life
06/15/12 09:00
For this June month's ICC- Indian Cooking Challenge, Srivalli chose Punjabi Speciality i.e Stuffed Kulcha. Through this link, I got a general idea about this recipe. Thanks for sharing this wonderful recipe with us. Under this recipe, I prepared two types...
Add to my recipe book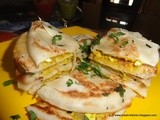 Stuffed Paneer Kulcha's
By Preeti's Kitchen Life
02/05/12 19:11
Today I post StuffPaneer Kulcha under street food category. Kulcha is an All Purpose Flour Bread.It is normally eaten raw with Chole. The other format is to make asandwich stuffing it with Paneer and it is quite popular with teenagers inNorth India. Here...
Add to my recipe book