Very Good Recipes of Shrimp from Princess Misia Recipes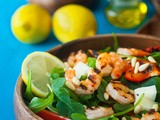 Grilled Shrimp and Red Pepper Salad with Lemon Honey Dressing
By Princess Misia Recipes
07/24/12 11:50
Ladies and gentleman, time to take advantage of this beautiful weather while it lasts and get your BBQs out! Grill some fish and veggies for a delicious summer dinner and use leftovers to make a light lunch for the day after. Leftover shrimp and red pepper?...
Add to my recipe book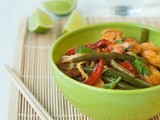 Shrimp Brown Rice Noodles with Homemade Sauce
By Princess Misia Recipes
06/13/12 10:18
I really enjoy making fresh dressings and sauces – I think they make such a huge difference in the taste of the meal! And contrary to what a lot of people think, they really don't take much time to make! My sweet chili, soy, ginger, lime and garlic sauce...
Add to my recipe book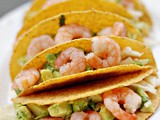 Shrimp Tacos
By Princess Misia Recipes
05/14/11 20:17
I've been crazy about all kinds of fish tacos ever since I came back from Austin. For my birthday, I had a fish taco night and those shrimp tacos are one of the tacos I served. Ingredients 8 taco shells 250g large shrimps ¼ white cabbage, finely shredded...
Add to my recipe book