Very Good Recipes of Thanksgiving from Raw Food for Truth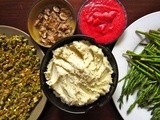 First Raw Thanksgiving
By Raw Food for Truth
11/25/11 21:18
I was ready to sacrifice my diet on Thanksgiving and eat some cooked food but when I asked my husband what he felt like having this year he said "Let's make it all raw!" Needless to say, I was really surprised (he's a vegan but not a raw vegan!) and excited...
Add to my recipe book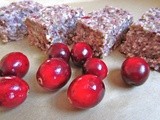 Buttery Thanksgiving Fruit & Nut Bars
By Raw Food for Truth
11/20/11 19:02
I'd never worked with fresh canberries before and since Thanksgiving is around the corner I decided to get some practice with them and use up some of my buckwheaties as well. Buckwheaties are buckwheat that were soaked (at least 6 hours) and dehydrated....
Add to my recipe book