Very Good Recipes of Bread from Rawfully Tempting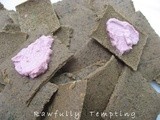 Horseradish 'n Dill Crackers/Bread
By Rawfully Tempting
Subscribe
07/29/12 15:28
As part of my recent exploration into "my roots," I prepared fresh Horseradish. It was deeply earthy and delicious. From that recipe, I made a Horseradish Hummus/Dip, which was lighter in texture, but also fabulous. I needed some crunchy crackers... So...
Add to my recipe book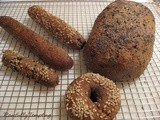 Sprouted Bread
By Rawfully Tempting
Subscribe
12/20/11 15:53
No, it's not raw. Yes, it's baked. I am not 100 percent raw even though the majority of my posts are about raw, because that is where my passion rests...and it's raw recipes that pop into my mind taunting me to play in the kitchen and give it a whirl. But...
Add to my recipe book