Very Good Recipes of Salad from Recipe Junction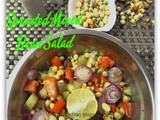 Sprouted Mixed Beans Salad ~ How to grow Sprouts at home
By Recipe Junction
07/04/13 23:19
D uring summer, consuming salad is quite necessary, to consume watery vegetables like cucumber, tomatoes etc. I also add Watermelon and some other fruits in there too. Sometimes I just soak some lentil like Whole Green Moong and add in the salad to add...
Add to my recipe book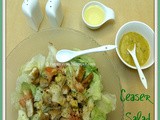 Italian Ceasar Salad
By Recipe Junction
10/11/11 12:34
I love particularly this salad a lot. But never made it before at home. During my stay in US, it was a must whenever I went to McDonald's. I loved their ceasar salad. Few days back, I was craving for this salad and thought to make it at home. A Caesar salad...
Add to my recipe book