Very Good Recipes of Tomato from Recipe with pictures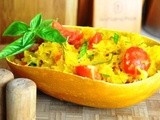 Spaghetti Squash with Tomato and Basil
By Recipe with pictures
Subscribe
09/12/11 04:22
I bought a spaghetti squash and I decided to make just half of it today. I made a savory squash recipe to go with a nice steak. The worst part of it was the fight with the squash. I had to cut it in half. Really, if you have a strong guy next to you just...
Add to my recipe book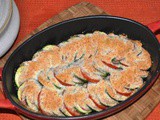 Zucchini and Tomato Gratin
By Recipe with pictures
Subscribe
08/26/11 02:52
This is a great way to eat a lot of vegetables. Good and easy. Next time I will add fresh mozzarella cheese then sprinkle with bread crumbs. I bet it's gonna be amazing. Serves 4 Ingredients: 2 medium zucchini, thinly sliced 2 shallots, thinly sliced 4...
Add to my recipe book