Very Good Recipes of Spicy from Republic of curries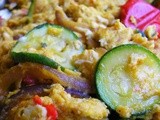 Spicy scrambled eggs
By Republic of curries
09/25/11 22:23
roll into chapatis and rotis or fill between two slices of bread. "egg bhurji" as we indians call it is quite a versatile comfort food. what makes it indian?...... spices: turmeric, cumin, red chillies, garlic and ginger. i also throw in some chopped onions...
Add to my recipe book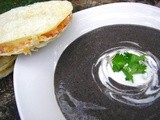 Black bean soup with spicy shrimp quesadillas
By Republic of curries
09/23/11 20:46
recipe adapted from "black bean soup with shrimp and jalapeno jack cheese quesadillas"from "cooking with david burke" by david burke and carmel berman reingold, published by alfred a. knopf, inc 1995. owing to lack of some ingredients i simplified the original...
Add to my recipe book