Very Good Recipes of Pasta from Cooking is divine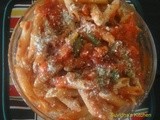 Pasta, Pizza and Noodles Event - Round-up
By Cooking is divine
Subscribe
09/10/11 16:30
Hi everybody, thank you for all your entries for this lovely ''Only Event'' by Pari of Food delicious, I had wonderful and colourful entries for this event, some have out done with their creations, A Huge thank you to all my lovely girls who sent me this...
Add to my recipe book
Only Pasta, Pizza and Noodles Event Announcement
By Cooking is divine
Subscribe
07/31/11 07:28
Hi Everybody, hope you are all doing well, I hope to keep blogging on a regular basis from now on :), and here I come with end of the month with this wonderful event of Pari of Foodelicious - A series of Only Event. Pari of Foodelicious gave me this lovely...
Add to my recipe book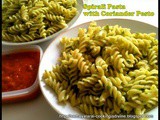 Spirali Pasta with Coriander Pesto
By Cooking is divine
Subscribe
03/31/11 22:22
Hi everybody, A lovely Pasta dish I tried from this blog called ''Searching for Spice''. It's been a long time back, I was with these group of T and C, This blogger pairs us with one of the blogs and we need to create a dish from their blog, This month...
Add to my recipe book