Very Good Recipes of Strawberry from Shweta in the Kitchen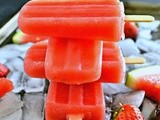 Watermelon Strawberry Popsicles - Strawberry Watermelon Ice Pops
By Shweta in the Kitchen
07/09/14 22:54
Fresh fruit flavored,all natural Popsicles or Ice Pops make such a great frozen treat for kids as well as adults. You could make these with any fruits you like but for today's post its Watermelon Strawberry Popsicles . I chose this combination as love the...
Add to my recipe book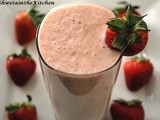 Strawberry Banana Smoothie
By Shweta in the Kitchen
06/06/12 19:40
Strawberry Banana Smoothie brings freshness to your breakfast/snack in hot hot summers. Its healthy & fulfilling, can be substituted for a meal for people with light appetite. Mornings are usually busy for most of us so my preferred option is to load my...
Add to my recipe book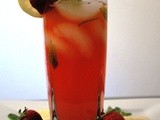 Strawberry Lemonade
By Shweta in the Kitchen
05/21/12 20:14
With summers reaching its peak staying hydrated becomes essential however just water can get monotonous & boring at times. Therefore, after Aam Panna , here comes the next easy-to-make-and-amazing-to-sip from my summer thirst quenchers bank. Strawberry...
Add to my recipe book