Very Good Recipes of Vegetable Soup from Simple Living and Eating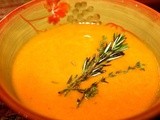 French Fridays with Dorie: Spur-of-the moment vegetable soup (Carrot Soup)
By Simple Living and Eating
10/18/12 06:00
As a kid I was quite enamored with the Stone Soup story. So much so, that in the winter I would stoke up an electric coiled burner on my back yard porch ( with no adult supervision, need you ask... it was the 70's) and require each kid in the neighborhood...
Add to my recipe book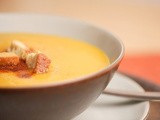 Meatless Monday: Puree Root Vegetable Soup
By Simple Living and Eating
04/02/12 14:22
This is a new blog and I am trying to gain an audience. Awards provide recognition, so if you enjoy my recipes please vote Simple Living with Diane Balch as best food blog by clicking on the image below. Thank you, I appreciate your support. http://www.thedailygreen.com/healthy-eating/healthy-soups-45010907...
Add to my recipe book