Very Good Recipes of Grilled from Southern Mom Cooks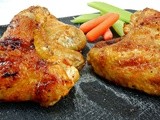 The Ultimate Tailgating Party: Grilled Chipotle Chicken Wings
By Southern Mom Cooks
07/21/13 15:00
When it comes to tailgating recipes, chicken wings are a must have at a tailgating party. Today I'm sharing on Southern Mom Cooks an easy grilled chicken wing recipe with a smoky chipotle sauce. The Ultimate Tailgating Party is in full swing and nothing...
Add to my recipe book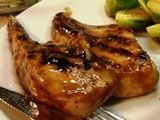 Brined and Grilled Boneless Skinless Chicken Strips
By Southern Mom Cooks
06/21/12 14:30
From Minnie: Boneless, skinless, chicken breasts on the grill. I bought boneless, skinless chicken breasts on sale and cut one of them into four strips of about the same size for the two of us. (The photo above shows just two of the four pieces). There...
Add to my recipe book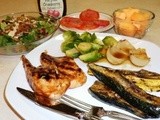 Grilled Sweet Onions Recipe
By Southern Mom Cooks
06/19/12 14:01
I have actually had this at her house and it is AMAZING! I like onions, but I don't LOVE onions. This, I loved! From Minnie: This is a favorite easy summer recipe my mom recently shared with me – it tastes like you're biting into French onion soup! It became...
Add to my recipe book