Very Good Recipes of Corn from Southern Shelle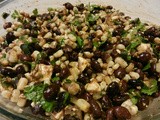 Cate's Black Bean and Corn Deliciousness
By Southern Shelle
09/13/12 15:03
I know that I posted a corn and black bean salsa recipe recently, but I posted it because all I kept hearing about was this corn and black bean dip that my friend Cate makes. She swore up and down that every time she made it a) people ate all of it and...
Add to my recipe book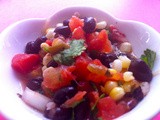 Corn and Black Bean Salsa
By Southern Shelle
08/23/12 17:47
It's the beginning of fantasy football season! The invites have been sent, the draft order was determined by Olympic Marathon runner finish time (I'm 3rd!) and the draft is this weekend! Our league is modeled largely off the awesomeness that is The League...
Add to my recipe book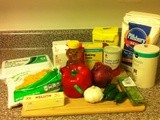 Bobby Flay's Mesa Corn Muffins
By Southern Shelle
12/06/11 17:16
A year and half ago, Jamie and I were in NYC during spring break and we had the chance to eat at Bobby Flay's Mesa Grill restaurant. I love all things Bobby Flay, so I couldn't wait to see if everything tasted as good as it looks on TV. A year and half...
Add to my recipe book