Very Good Recipes of Crèmes from Suburbhomestead's Blog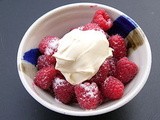 Crème Fraiche Simple Elegance
By Suburbhomestead's Blog
10/23/13 23:48
This simple recipe can dress up the simplest fresh fruit and well as bringing a depth of flavor. Neat, easy, and frugal, simplicity as it's best. How may uses will you find for it? Tomato soup or bean soup brightened by a dollop of crème fraiche and chopped...
Add to my recipe book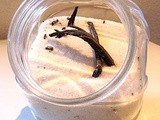 Crème de menthe
By Suburbhomestead's Blog
01/23/12 05:18
Makes: 10-11 cups · 8 cups filtered water · 8 cups superfine vanilla sugar (sugar in a food processor for 3 minutes) · 1 pint 190 proof grain alcohol (I use Everclear brand) · 4 tablespoons peppermint extract · … Continue reading →
Add to my recipe book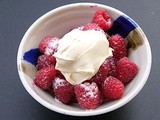 Crème Fraiche
By Suburbhomestead's Blog
10/03/11 15:33
Crème Fraiche from Mastering the Art of French Cooking by Julia Child, Louisette Berthole, Simone Beck Ingredients: 1 tsp cultured buttermilk 1 cup whipping cream Stir the buttermilk into the cream and heat to lukewarm- not over 85 degrees. Pour … Continue...
Add to my recipe book