Very Good Recipes of Avocado from Susie QT pies Scraps of Life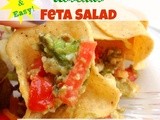 Avocado Feta Salad Salsa Recipe #iloveavocados #mc #sponsored
By Susie QT pies Scraps of Life
Subscribe
07/18/13 16:03
We are huge avocado fans in this house! We also love eating Mexican recipes so every time we have any type of Mexican food you can bet there will be avocados. How about you and your family? Do you like avocados? How do you prepare them? Most of the time...
Add to my recipe book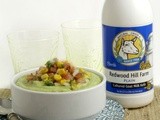 Cinco de Mayo Recipes: Kefir Chilled Avocado Soup
By Susie QT pies Scraps of Life
Subscribe
04/29/12 02:29
Chilled Avocado Soup with Roasted Corn and Pico de Gallo Garnish Cool, creamy and velvety on the tongue, our chilled avocado soup refreshes with a satisfying tanginess from our Redwood Hill Farm Kefir...even on the hottest summer days. It's perfect for...
Add to my recipe book